White Rex is a Russian clothing brand aimed at combat sports. Even though the owner keep denying it, one doesn't have to be a genius to understand that White Rex targets mainly neo-Nazis. The brand was established in 2008 by Denis Nikitin. It was founded for the purpose of clustering people with similar opinions and beliefs, and at the same time for the purpose of gaining money for "charity". In this context, charity stands for financial support of imprisoned neo-Nazis, which they call the "prisoners of conscience".
The whole propagation of White Rex and its designs is swarmed with Nazi symbolic. That is not such a surprise, as they are designed by a person called Nils, who makes motives also for the Wotan Jugend organization as well as posters for different Russian neo-Nazi events. You wouldn't find the swastika on the clothes, but popular are the "kolovrat" motives (an Old-Russian religious symbol, which is in the present day used by Russian neo-Nazis and racists), number 88 (acronym for the Nazi salute – Heil Hitler) or "Tyr" and "Odal" runes, which were used by the SS. A special edition of t-shirts of a Russian neo-Nazi band called You Must Murder came out under the White Rex brand.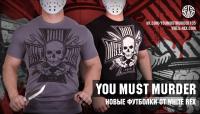 You Must Murder band t-shirt sold under the White Rex brand.
Classical White Rex logo with "kolovrat" and a date, which the brand states as the date of establishment. Numbers 14 and 88 are frequently used neo-Nazi acronyms (14 being the so called "14 words" defined by the American racist David Lane, and 88 as for Heil Hitler).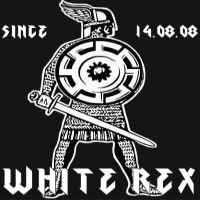 White Rex
Connection with combat sports
Since the existence of White Rex organization, sponsoring tournaments in combat sports (especially MMA) fell under its major public activities. These were organized by people from the far-right environment. Since 2009 White Rex supported several Russian tournaments organized by the local far-right organization called Resistance, and it shielded Russian concerts of German neo-Nazi bands like Brainwash, Moshpit or the already mentioned Russian You Must Murder.
In 2011, White Rex launched a series of its own tournaments under the name "Duh Voina" (The Spirit of a Warrior). Even though neo-Nazis are not the only ones to fight, it is obvious, that these tournaments are primarily specified for them. For example Wotan Jugend organization is one of those, which regularly position its teams into the tournaments, and at the same time there is a space for open neo-Nazi propaganda. On an event in 2012, a well-known neo-Nazi activist from the Format18 organization, Maxim "Tesak" Martsinkevich, had a spoken word performance during the last fight. Before that he was imprisoned for three and a half years for incitement to racial hatred and ethnic violence. On other tournaments he appeared as an honorable guest.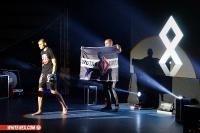 Wotan Jugend fighter on one of the White Rex tournaments.
"The Spirit of a Warrior" started expanding to the West in the same year. The first outside-Russia event was a tournament in Kiev, and in 2013 the first tournament in Rome took place. It was carried out in the Area19 compound, which is the ground of the Casa Pound neo-fascist movement. The event in Rome was repeated also in 2014 and a week after it the first tournament on the French grounds took place in Lyon. It was co-organized by the local branch of Blood & Honour organization. It came into tradition that neo-Nazi bands' concerts follow after the fights. These are, for example, You Must Murder, Kategorie C or Moshpit.
The after-tournament concert in Rome was pretty boiling. More than one right hand flew up to the air.
Attendance on "The Spirit of a Warrior" has lately become a prestige matter for representatives of different neo-Nazi organizations from whole Europe. A 2013 tournament in Moscow was a goal, for example, for a group of German neo-Nazis lead by Daniel Weigel, who is one of the leading figures of the Freie Netz Süd organization and stands behind the Final Resistance distribution or the Wallhall Athletik brand. Andreas Kolb from the narrowest leadership of the NPD youth organization has appeared in the support team for the German fighters in 2013 in Yekaterinburg. Czech Nazis don't want to be left behind, and so they arrived to the first tournament in Rome in large numbers. The North Bohemian and quite successful neo-Nazi fighter Vít Mrákota appeared in the cage; he makes a living as a bouncer at a disco or security guard on football matches (we remark that hooligans usually hate security guards from the football field) and at the same time he coaches MMA in his own gym AF-Rebels in Ústí nad Labem, which is sponsored by Hatecore Shop. Interesting is the fact that Mrákota was originally supposed to fight with Attila Petrovszki during his 2013 engagement in the Roman tournament. This Hungarian fighter and former activist of the international neo-Nazi network Blood & Honour, whose widely tattooed body is dominated by the portrait of the Führer, a swastika or the slogan Death to Jews, has appeared even in Czech media – his fight on the tenth season of the Heroes Gate tournament was eventually cancelled due to the pressure of the sponsors.
Pavel Koleček, a neo-Nazi from Ústí nad Labem and from the group of the defunct Autonomous Nationalists, acquired sponsoring for Mrákota from White Rex in return for a WR tattoo over the whole fighter's knee – a head in a helmet with a kolovrat on the background. Next to Mrákota and the Rod couple, a small group of the former Autonomous Nationalists, lead by Patrik Vondrák, one of the leading figures of modern Czech neo-nazis, attended the Roman tournament. The group around Vondrák travelled to Rome also because of the meeting of the European Solidarity Front (neo-fascist network supporting struggles of nationalist groups mainly in Kosovo and Syria), which took place in the same period as the tournament.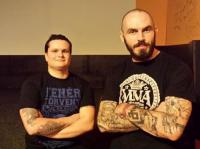 Lukáš Rod (left) and Vít Mrákota, whose team AF Rebels is officially sponsored by Hatecore Shop.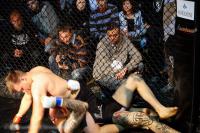 Vít Mrákota in Rome in 2013. White Rex logo on the knee and Skrewdriver on the shin are not his only Nazi tattoos. You can also see a part of the Czech audience behind the cage.

Duh Voina XXIX, 30. 5. 2014, Rome
Hatecore Shop attended the 2014 Roman tournament "Duh Voina", which was organized again as a part of the "Tana Delle Tigri" festival by Casa Pound. Hatecore Shop introduced, for the first time, its team as White Rex Czech. At the last minute Lukáš Rod got his hands on a young boxer and MMA talent Matúš Juráček and made him the main team star. Since 14 years old, Matúš lives in the hooligan environment of Prague Slavia and currently he still holds the five-year ban to stadiums for brutally kicking another Slavia fan. He is not a typical Nazi and, frankly speaking, his permanent failing in school doesn't help his interest in politics. Nevertheless he has good relations with the neo-Nazi scene and as one of the few young hooligans he was present at the wedding of Lukáš Rod and Michaela Dupová (now Rodová).
The second fighter to battle for White Rex Czech was Milan "Punky" Panáč from Slovak Diamond Gym in Žilina. The motives, which he has tattooed (a hand in a nazi salute position, a Wermacht soldier and the Waffen SS troops motto) reliably tell us, where to categorize Punky. Juráček and Panáč arrived to Rome in a bigger group. Next to the Hatecore Shop's a.k.a. White Rex Czech's "management" (Rod and Koleček), Jaroslav "Číňan" Poborský (who was also supposed to fight, but didn't get an opponent) and Tomáš "Thor" Kužela in the role of the coach, also other two well-know neo-Nazi activists appeared in Rome – Marek Henzl and Martin Tuček. Marek Henzl is a familiar violent criminal and thief from Pilsen from the group of local Autonomous Nationalists, who occasionally battles in MMA for Pilsen Atom Gym. In 2010 he co-organized a Nazi march through Pilsen and he also spent some time in jail, where he ended up in connection with an armed robbery. Martin Tuček from Kamenický Šenov is thanks to his weightlifting figure, which could be an ad for "food complements", highly visible on different events organized by neo-Nazis. His attendance on White Rex is not surprising, as he belongs to Pavel Koleček's friends, whom he helps with underhand distribution of t-shirts and stickers with neo-Nazi themes.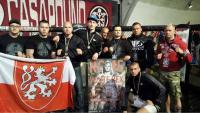 Team White Rex Czech this year in Rome. From the left: Pavel Koleček, Martin Tuček, Marek Henzl, Matúš Juráček, Jaroslav Poborský, Lukáš Rod and Tomáš Kužela. Down: Milan Panáč.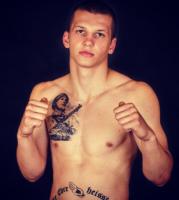 Milan "Punky" Panáč and his Nazi tats. The writing on the belly is the Waffen SS motto.
The participation of these neo-Nazi bullies on the event is not surprising, but we can't say the same about the attendance of Jaroslav "Číňan" Poborský and Tomáš "Thor" Kužela. Both of them are long-time professional fighters and regularly participate in big MMA tournaments. The connection of top athletes and active neo-Nazis can be shocking for some, but in reality it is discussed for a longer period of time. Finally, it is not such a surprise, when we take into account, how important is violence in the lives of Nazis and hooligans. At this point we must compliment Lukáš Rod for bringing this phenomenon to light. The only question is, to what extent these fighters realized, what they have participated in. In the case of Tomáš Kužela this question isn't necessary. But if Jaroslav Poborský knew that he's supporting a neo-Nazi event, we really can't tell. If we take into account the common Nazi practice of lying, we wouldn't be much surprised if Lukáš Rod fooled Poborský that it is an ordinary fight. In his case it wouldn't certainly be for the first time – just remember the neo-Nazi attempt to attend the 2011 concert of the American HC band Terror, which was organized by Lukáš Rod. He kept persuading his party members that Terror is actually "totally fine and they have nothing against Nazis". The biting questions regarding the Asian guy in the band's line-up Rod replied cunningly, claiming that "Japanese used to be the allies". Today we already know how it all ended up and that the opinions of the band Terror are completely different.
Duh Voina 30, 7. 6. 2014, Lyon
A week after 2014 Tana Delle Tigri, another series of "The Spirit of a Warrior" tournaments took place in Lyon. This time it was under the patronage of White Rex together with the French brand Pride France, and the concert of the German Kategorie C was organized by the French branch of the neo-Nazi organization Blood & Honour. For this purpose Hatecore Shop took into his team again Vít Mrákota, the half-Nazi Tomáš Dubský from South Bohemia and two Sparta Nazi hooligans, Jakub "Prochy" Procházka and Jiří "Jihik" Smola, for whom it was a premiere in the ring. Jakub Procházka is one of the former leaders of the young Sparta hooligans group called Prague Boys and amongst his own he doesn't hide the right-oriented attitudes (Prague Boys themselves do not profile as a political group). But this waiter from one well-known Prague restaurant, who is famous mainly for stealing from his boss's cash register, doesn't participate on the demonstrations; most probably due to the fear of police and AFA he rather takes photos of him and his friends and a dog instead. He was accompanied to Lyon by his partner nicknamed Šmoulinka, who used to devote herself to crystal meth, but currently she is trying to persuade her surrounding about her neo-Nazi worldview.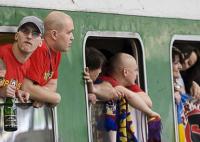 Prague Boys – Prochy likes wind in his hair and Bohemia sparkling wine.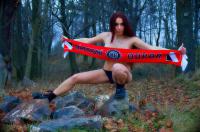 Prochy's partner Šmoulinka and her newly discovered political belief.

Jiří Smola is another hooligan from Prague Boys, who trains in the gyms Primmat and TKBC, and he as well is right-oriented. Amongst his friends are for example brothers David and Jakub Hošek, also from the Prague Boys, who kill time by causeless attacking of people in Prague's Wenceslas Square and its close surrounding. Besides Nordic motifs on the chest and scapula, Smola has also the logo of an already non existing Czech neo-Nazi brand called Grassel tattooed on his forearm.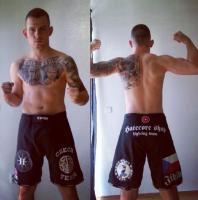 Jiří Smola before the Lyon tournament in Hatecore Shop's shorts with the Good Night Left Side logo.
Twenty-two-year-old Tomáš Dubský currently lives in German Passau, but comes from Soběslav and has already participated in quite a few fights, especially in boxing. Even though he is not politically active, some aspects of his attitude are pointed out by his tattoo with the Tyr rune.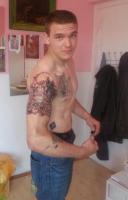 Tomáš Dubský with the tattoo of the Tyr rune, which was used by Hitlerjugend and the SS and SA troops.
The fighters took a small support team with them also to Lyon, same as to Rome. On the photos we can see Jiří Dudák, who has found himself, after the episodes in National Corporatism or the Labor Party (Czech far-right party), in the activities of the neo-fascist European Solidarity Front. Rod was accompanied by his wife Michaela and Prochy and Šmoulinka by Prochy's young colleague from The Prague Boys, Jaroslav "Bizzi" Ježdík and his girlfriend Petra. Interesting is that Martin "Jakob68" Píša was present in Lyon as well. It is possible, that this wannabe-activist, beer skinhead and a "hooligan" of the Kolín football club, who turned in his fellow men for money, was supposed to balance out the absence of the thief Henzel. Nevertheless it is more likely, that Píša sensed the chance of taking some White Rex products for consignment sale without handing over the share of revenues afterwards. That is a discipline, which Píša used to be famous in over the whole Europe, from Portugal to Poland.
The complete Czech crew to Lyon. From the left: Jiří "Jihik" Smola, Martin "Jakob68" Píša, Pavel Koleček, Lukáš Rod, Vít Mrákota, Jiří Dudák, Tomáš Dubský, Michaela Rodová, Jakub "Prochy" Procházka, Jaroslav Ježdík, Šmoulinka and Petra Dražilová.
Besides establishing the "hooligan group" called Potkali se u Kolína (They Met by Kolín), Píša participated in football field fights for AC Sparta Praha and thus he is no stranger to the older hooligan generation from Letná. That is also why his presence in Lyon together with the young Spartans from Prague Boys is so interesting – according to the statement of representatives of younger and older ACS hooligans it is almost impossible for all the generations of Sparta hooligans to stand hand-in-hand against one rival. Rod's flexibility (one might point out the absence of a spine and self-reflection) thus celebrates temporary success – promising Slavia MMA fighter Juráček battles in one line right next to the well-know Spartan Procházka and stadium security Mrákota, while their backs are covered by the thief and snitch Píša. That is surely a line-up, which can be composed only by someone with a really strong stomach.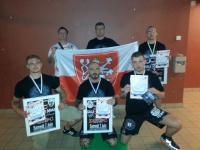 White Rex Czech team in Lyon.